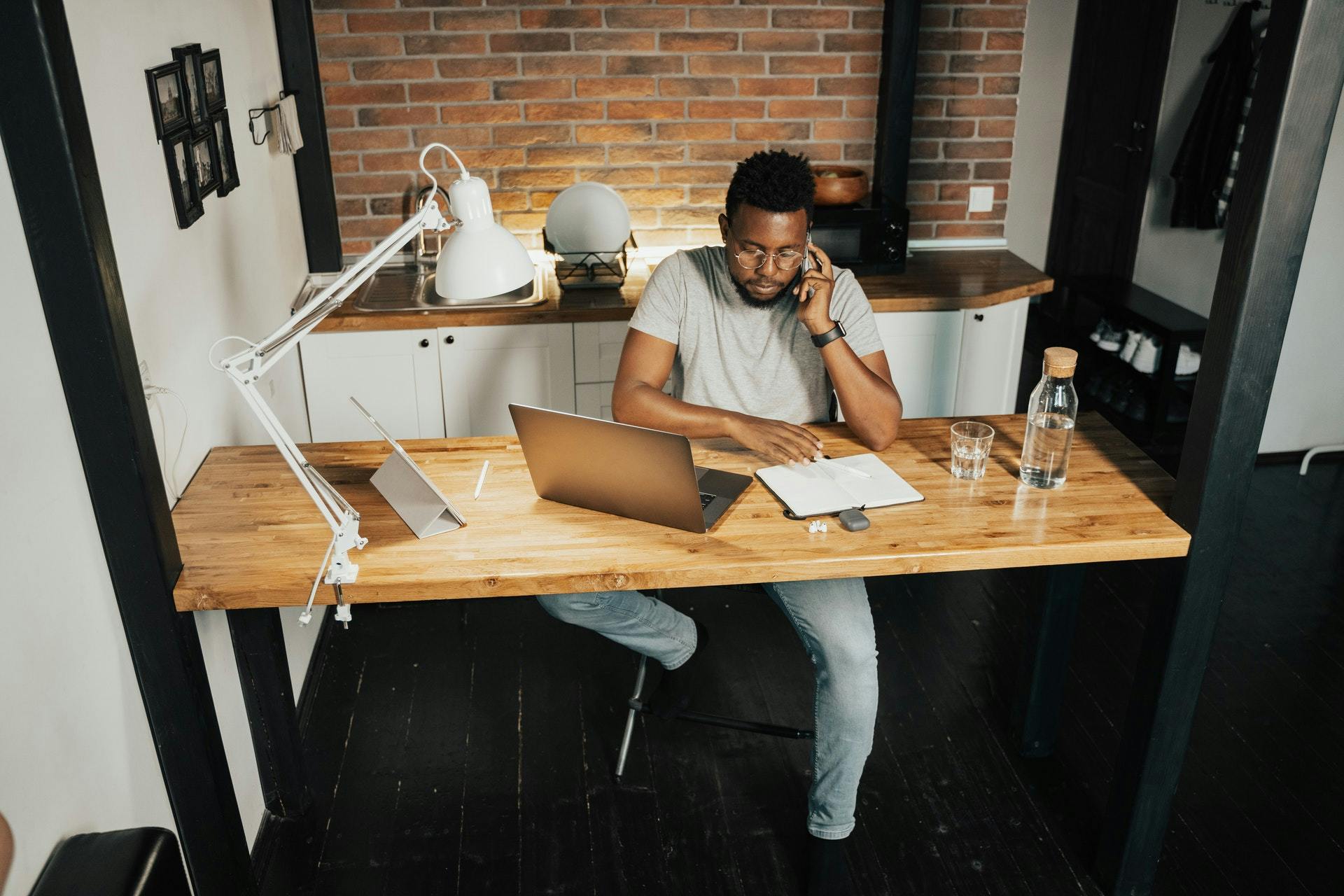 Fact: Stellar communication is key to productivity, especially in a remote team. Problem is, it's one of the hardest skills for remote teams to master. Don't believe us?
Consider the following scenarios: 
It's 11 p.m. A customer support rep gets a text from her team lead and wonders (not for the first time) if she's expected to reply, or if it's ok to call it a night.
You're letting off steam in your team's Slack watercooler channel when your manager pops in and publicly shares feedback about a recent project that wasn't quite up to par.
You and the team are in the middle of your weekly Zoom standup. One of your remote team members takes a bathroom break but forgets to turn off their audio. 🤦
When you made the decision to go remote, you probably thought remote team communication would be easy. After all, all you need is a few strokes of the keyboard, and your message is instantly transmitted to your colleague on the other side of the world. What's not to like?
If it only were that simple. The reality is that today, some 86% of partially or fully remote team managers have problems communicating. But just because remote communication challenges are normal, doesn't mean you can't avoid them.
Understanding and optimizing your communication methods across borders, tools and time zones, is critical to the success of your team. We're about to tell you everything you need to know to make remote team communication a total breeze. Let's dive in! 
Here's what we'll cover:
Types of Remote Team Communication: Synchronous vs. Asynchronous
Remote Team Communication 2.0: Best practices for virtual communication and collaboration
The #1 cure for communication headaches? Remote team rituals
Remote Team Communication Tools: 4 top tools used by remote teams

Types of Remote Team Communication: Synchronous vs. Asynchronous
When it comes to remote team communication, it pays to know your lingo. 
In case you're new to the topic, we're going to clarify the two core types of remote team communication:
Synchronous communication is described as every type of communication that occurs in real-time. Video calls, in-person conversations, and instant messaging apps are perfect examples of some of the most common types of synchronous communication.
Asynchronous communication is, as you might expect, the opposite of that. Asynchronous communication is every type of communication that doesn't occur in real-time. Responses happen when they happen, and team members typically are not expected to reply immediately.
Examples of asynchronous communication platforms include email, chat-free project management tools like Asana, and comments and edits on Google Docs or GitHub.
Many distributed teams use a mix of the two. For example, for formal announcements you might send a group email, while for urgent product fixes or customer support queries, you might use a team communication app like Slack.
Remote Team Communication 2.0: Best practices for virtual communication and collaboration 
Teams who work from an office have it easy—the all-hands meeting, impromptu water cooler catch-ups, team lunches—you are literally a shoulder tap away from almost any info you need.
But with partially or fully distributed teams, it's a whole different ball game. In a remote team, your primary communication tool is more than just an app or inbox—it's the closest thing you have to an office. 
And without the ability to simply "pop by" for a chat, communication breakdowns are all but inevitable.
Remote team communication headache #1: Lack of emotional context 
With the rise of the internet, we are witnessing another key turning point in the evolution of human communication and this time, we don't always have the advantage of non-verbal cues. 
Why is this important? 👇
Without the unspoken cue of seeing someone's face as they smile, frown, or raise an eyebrow, it's easy to fall victim to misunderstandings and confusion. In an article from the Harvard Business Review, author and business consultant Erica Dhawan and professor of business psychology Tomas Chamorro-Premuzic explain how a lack of emotional context can have a devastating impact on employee productivity:
"What's missing from our texts, emails, conference calls, and other digital communications? Body language. Even when we're co-located, the tone of a text or the formality of an email is left wide open to interpretation, to the point that even our closest friends get confused. These misinterpretations create an anxiety that can become costly, affecting morale, engagement, productivity, and innovation." 
So, how can you be sure you've received the right message when working remotely?
The Cure: Clear communication guidelines
With clear communication guidelines, you can get your entire remote team on the same page, while leaving less room for the kind of communication misfires that can kill your team's productivity.
And the best part is, it doesn't have to be complicated. Start by setting simple rules for how and when to use your remote communication tools.
Think about things like:
When should the team use chat? 
When should they avoid chat?
Is it ever ok to mute or turn off chat? Or should certain team members be available at all times? 
Are team members expected to reply after working hours? What about weekends?
How will you know when a team member has received your message?
What necessitates a video call vs. an email?
In some cases, sending project notifications over Slack can be counterproductive. And when it comes to solving complex problems, a call might be better than a lengthy email exchange.
Chances are, the communication tools, cadence and expectations will vary based on the role and function of each team. And that's ok.
Just make sure you take the time to define what your expectations are for each team and that you outline your communication guidelines clearly in a shared doc or handbook. 
Remote team communication headache #2: Different time zones
You're likely already aware that one of the top benefits of going remote is that you can hire great talent, no matter where in the world you find it.
But that also means that your colleagues are usually a plane ride away, not in the cubicle next door. 
If you want a global team, you need to adjust your communication expectations to match that. If you're expecting a quick response to an email from a colleague working in West Africa Time Zone (WAT) and you're in Australian Eastern Standard Time (AEST), you're on a fast track to frustration.
And the more you scale, the tougher it can get. When you need to coordinate meetings, reports, and tasks across remote teams from Auckland to Alaska, you need to be ready to elevate your remote communication methods.
The Cure: Team checklists
Checklists are the gold standard for creating consistency. They're also a great way of providing answers to team members so they can move forward with their work (literally while you're sleeping).
Here's a quick example of how an employee onboarding checklist can help your team leaders make a better impression with new hires, even if they're both in completely different time zones.
Sample employee onboarding checklist:
Send a welcome email
Collect and log personal details: birthday, address, bank details, hobbies
Invite to work tools (Slack, Google Docs, Loom, etc.) 
Set up an introductory meeting with the leadership team
Schedule an introductory meeting with teammates
Here's another simple, 3-point checklist to use when prepping for a Product Hunt launch:
Create a shortlist of influencers, makers, and relevant groups.
Find a Hunter. 
Build your Hunter's kit. 

No matter how mundane a task might seem, using a checklist reduces unforced errors and helps your team know exactly what to do even when you're not there to tell them.
Remote team communication headache #3: Not enough transparency 
When tasks are communicated through a direct message or even an email or Slack thread, it can be difficult (not to mention a major time-waster) for remote team members to comb through and find the info they need.
And when remote team members can't find the docs and data they need when they need it, often what you end up with is information asymmetry, where some team members have access to the info they need and others are left in the dark.
The result? A huge blow to team productivity and a major breakdown in trust.
The Cure: Over-communication
In the Deep Work era, asynchronous communication definitely has its perks. But in some scenarios it can lead to an unnecessary avalanche of back-and-forth messages and slow team performance—especially if your initial briefing isn't detailed enough.
When in doubt, train your team to overcommunicate.
For example, when making comments in a shared Google Doc, clearly point out and explain every single point as much as possible so your teammate has all the details they need when they sit down and start working.
Here are some examples of how to overcommunicate in common remote team scenarios.
UNDER-COMMUNICATION: Can you please work on the transitions once you get the chance? 
OVER-COMMUNICATION: Can you please work on the transitions in the introduction and last section before the conclusion and send it back before 4 p.m. CET, next Monday? Thanks!
UNDER-COMMUNICATION: Can you clear up some space on the web server?
OVER-COMMUNICATION: Our user base is currently growing at 16% daily, and we are at risk of running out of space by Friday. Could you give me an estimate of how much space we should clear up on the web server when you log in tomorrow morning? 
Quick caveat: Over-communication can also be detrimental, especially if everyone's doing it all the time, for all the tasks. Share what people need to know depending on the urgency and level of detail required by the task in question and always exercise common sense to avoid the risk of micromanaging.
The #1 cure for communication headaches? Remote team rituals
Remote working promises flexibility and freedom, but team members also run the risk of loneliness, burnout, and discontent. 
In fact, office supply company Viking and surveyed 1,500 people, with an equal number of remote freelancers and office workers and found that more than 6 in 10 freelancers said their work made them lonely. The remote workers surveyed were also more likely to report work-related stress compared to their office-based counterparts.
Without the benefit of connecting with your team in-person, even seemingly minor stresses can quickly spiral into a drop in productivity. 
The good news is, with the right team rituals in place, you can make sure your remote team always feels supported.
Here's how to get started with remote team rituals:
Schedule regular check-ins. These meetings not only act as an opportunity to check up on work, but also as a way for you to gauge the battery level of each member of your team on a more personal level than emails and instant messaging. 

At Station, we have daily stand ups where each member of the team explains what they did the day before, what they'll be doing that day and if they need help. Each standup typically lasts between 15-30 minutes so we can all move swiftly forward with our day. We also have one all-hands meeting per week to discuss product, tech and growth topics together. We call it 'the big one'. 🌊
Build bonding into your culture. Regular in-person retreats, online board games, or even smaller in-person meetups for teammates who live within the same vicinity are a great way to encourage camaraderie and build stronger relationships in the team.
Our team likes to eat so we typically have three remote lunches per week. We also see each other every six to eight weeks for our regular Paris meetups and have 1-2 retreats per year in lush locations like Faro and Seville. (Thanks Airbnb!)
But perhaps our most magical bonding moment was when we all got together to watch the launch of the SpaceX Falcon 9 rocket. (It.was.epic.) 🚀 
Send out the swag. It might not seem like much, but regularly sending out branded goodies (water bottles, t-shirts, hoodies, etc.) is a simple way to bolster the connection you have with your remote team members. (Plus, imagine when everyone shows up in their branded t-shirt to your next Zoom meeting? 😍)
When a new hire joins the team at Station, we send them a branded t-shirt and a letter with comments from everyone in the team telling the newcomer how excited we are to work with them. It's a little thing that goes a long way toward making new team members feel welcome.
Once you have the foundation of your remote team rituals in place, all that's left to do is choose which tools you'll use to support those workflows.
Remote Team Communication Tools: 4 top tools used by remote teams
The most important thing to know when choosing a remote team communication tool is that there is no such thing as a magic bullet app that will work for everyone.
You're going to have to sit down and take the time to dive deep into your organizational requirements and figure out what you do and don't need in a remote team communication tool.
With that in mind, here are some of our favorite remote team communication tools: 
#1. Remote team chat and communication
Slack is the most popular communication tool for both remote teams and office workers—and for good reason. 
The team communication platform is user friendly and it won't blow a hole in your budget. You can create different channels for each department or project, with many teams using a #watercooler or #happyplace channel to boost team rapport. 
Another excellent tool for communicating with both your team and customers is Loom. 
With Loom, you can say goodbye to the screenshots piling up on your desktop. This super-efficient Chrome extension lets you send a video message to instantly clarify queries and explain complex concepts in a matter of minutes—perfect for your customer support and product teams.
For extra resources, check out: 
Loom Use Cases - A guide to how Loom is helping remote teams communicate effectively and stay aligned—from Engineering teams using video messages to review code to leveraging video messaging for Customer Success teams, you'll find a Loom use case for just about every remote team scenario.
#2. Remote project management and team collaboration
You likely have a favorite project management tool, and we advise you to continue using that. 
But if you're still on the hunt for the perfect project management tool, there are loads of options out there. 
Asana is a go-to for many remote startups due to its zen interface and ease of integration with other tools. It is also affordable for smaller teams and offers a lot of flexibility for partially and fully distributed companies. 
For extra resources, check out:
Asana Templates - A complete gallery of cross-functional team templates covering everything from Bug Tracking Templates for your Product team to Editorial Calendars for your marketing crew.
#3. Remote team meetings 
Video calls are a great way to hold meetings, build relationships, and keep in contact with remote teams. While there are many options in the market, Zoom has become the mainstay in recent times.
One of Zoom's most significant advantages is its screen-sharing capabilities. You can also record the meetings and share them with members of the team who couldn't attend. 
For extra resources, check out these two tools that make managing remote meetings way more fun: 
1. Krisp.ai - Super cool app that removes background noise while on calls or webinars. 
2. Snap Camera - Fun filter for making your Zoom meetings a little more exciting. ✨
#4. Remote file management
A critical success factor for every remote team is file management. Google's G Suite is the go-to for remote teams, not only because it's free for anyone with a gmail account, but it's also an excellent solution for storing and managing documents of all sorts. 
Plus, G Suite's permission function simplifies the sharing process so you never have to worry about the right people having the right access.
For extra resources, check out:
G Suite's Learning Centre: A guide on how to get started and working remotely using G-Suite. 
Remote team communication isn't easy, but it is doable
Communication can make or break your success.
And that's true for both remote and in-office teams. If you're committed to making the remote team model work, know that getting it right will require a healthy dose of critical thinking, trial and error, and above all, patience. But with the remote work trend fast becoming the norm, there's strong reason to believe that if you invest a little time and energy into remote communication today, you'll be well ahead of the pack tomorrow.
About us 🤗
Based in Paris, Station is run by an agile team of productivity geeks whose sole ambition is to make your workflows easier. Station is the Chrome extension designed to ease your workday and help you find what you need instantly. Give it a try! (It's free!)