When you're a brand new SaaS product or app looking to grow your user base and build your brand, it's easy to feel a little lost in space. Should you focus on App Store Optimization? Grow your email list? Break the budget for a fancy PR firm? 
With endless growth marketing options to choose from, the overwhelm is real. But for us, two simple words changed the game:  Product Hunt. 
In 2017, with a team of six and a 90-day launch window, we succeeded in getting Station ranked #1 on Product Hunt. 💥
Almost overnight, we went from just another under-the-radar app to a 5330% increase in landing page visitors, 1,000+ support tickets and 300+ Twitter mentions. 
In fact, if it weren't for our early success on Product Hunt, it would have been harder to get into YCombinator. (Believe it or not, the CEO of YC was using Station when we applied. How's that for stars aligning?)
In this article, we'll share the best advice for getting featured on Product Hunt (both our own and top tips curated from the experts) and tell you everything we wish we knew before we hit #1.
Side effects of reading this piece might include:
A 2600% increase in weekly active users. 🚀
A mountain of new visitors to your landing page. 
And loads of proven tips and tactics you can implement right away to accelerate your growth. 
Table of contents
What is Product Hunt?
How to get featured on Product Hunt
Product Hunt Pre-launch: How to prep for a successful launch
Getting Featured On Product Hunt: What to do on launch day
Product Hunt Post-launch: Don't drop the ball on customer onboarding
Is Product Hunt worth it for tech startups?
What is Product Hunt?
We could go on a long-winded rave about Product Hunt and Ryan Hoover, but we know you're short on time so we'll keep it brief.
Simply put, Product Hunt is the geekiest community website for users such as early adopters, innovators, and entrepreneurs to discover and share the best new tech products.  
Here's why that matters:
The tech market is crowded. In fact, there are over 6,000 SaaS companies in the marketing space alone.
You need to find a place where you can go from absolute zero to full-velocity visibility: Product Hunt is that place. 
If you're looking to get as much traction as possible for your product in the least possible amount of time, Product Hunt is where you need to be. It's the one community that can make the difference between struggling to get traffic and an entire universe of dedicated users within your first couple of weeks or months.
And that's why most people you talk to about Product Hunt will probably mention two core benefits:
     1. Traffic 🚦
     2. New users 📈
But in our experience, Product Hunt also has many other benefits that aren't as obvious as the bragworthy traffic and user metrics but are equally (if not more) important. 
Here are some of the other (lesser known) benefits of winning on Product Hunt: 
With tons of new users, you can run statistically significant A/B tests on everything from your marketing funnels to your landing pages and pop-ups. (Heck, you can even go full Google and test new color combinations for your landing page.The data is yours to play with!) 
You get awesome access to valid, unbiased feedback from both your new users and the various community channels found on Product Hunt. (One warning, though—expect to sift through some spammy comments and trolls.)
You can adjust your product roadmap based on real user needs (not groupthink or internal assumptions).
For our team at Station, the data-driven insights that came as a result of a successful Product Hunt launch were just as crucial as our new user count.
And of course, let's not forget the conversion benefits.
According to a 2014 whitepaper by IDC, 75% of B2B buyers use their social network to make purchase decisions. With the rise of social selling, tech founders need to embrace social communities—including platforms like Product Hunt and LinkedIn.
At Station, we didn't have to sink thousands of euros into PPC campaigns or wait for users to download a lead magnet before expecting for them to convert. Thanks to Product Hunt, we had a stream of high-intent, quality leads who had seen enough of the right information, e.g. user reviews, ratings and other social proof, that they were more than ready to convert. 
Here we are two years later and we still have an average 40% conversion rate on our website, with much of that traffic coming directly from Product Hunt.
How to get featured on Product Hunt (and learn a TON in the process)
Here's the thing about getting your product featured on Product Hunt:
You only launch once. 
Once. 
That's all. 
So, you need to make it count. 
As with all online communities like Product Hunt, there's no shortage of excellent guides and playbooks on how to get featured.
Here's a quick roundup of the best Product Hunt guides out there:
Product Hunt Pre-launch: How to prep for a successful launch
Here are 5 must-dos to ensure you're ready to win on launch day: 
Test the user conversion flow. One of our biggest pre-launch mistakes was forgetting to optimize our CTA for mobile. Before you launch, be sure to ask a couple of team members to test the entire lead journey from A to Z. Keep an eye out for small details that could have a BIG impact on your conversion rate.
Build a community of influencers, product makers, and product hunters, lovers and testers well before your launch day. This could mean joining communities such as MakerHunt or #Launch on Slack. Also, look out for relevant groups on Facebook. 
Create a shortlist of the top community influencers, product makers, and testers who have upvoted products similar to yours or have left comments on such products. 
Find your Hunter. As the creator of the product, you're what's called a 'Maker'. On the other hand, 'Hunters' are the early adopters known for finding and sharing the best makers on Product Hunt. Having a great Hunter submit your product is like having a SpaceX Falcon 9 rocket in a car race. Just make sure it's someone who has hunted similar products before or is active in your niche.
Build your Hunter's Kit. As a maker, it's your job to make it easy for a Hunter to win new users. Remember, the Hunter doesn't work for you—they're sharing and upvoting your product because they genuinely think it's great. Give them everything they need to make promoting your product an easy 'yes'.
A great Hunter's Kit contains: 
Product name (max. 60 characters)
Product URL. (Got an app? Put the URL here too.)
Your tagline (max. 60 characters)
The platforms your product runs on.
The top 5 images highlighting your product. (A YouTube video is perfect.)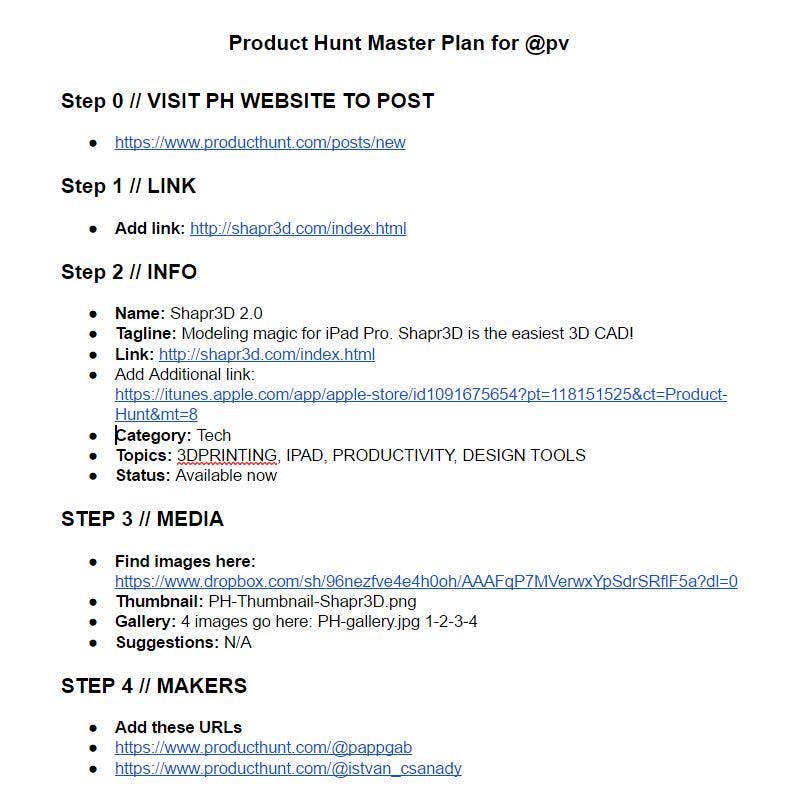 Product Hunt Pre-launch: Resources and tools
500 Makers: A regularly updated list of the most influential Makers & Hunters.
Slack: To find communities of testers and early adopters. 
GIF Maker: Prepare images for your Hunter's Kit and other social media channels.
Getting Featured On Product Hunt: What to do on launch day
It's your big day! 🎉
Before we get caught up in tips and tactics, be ready to ensure that all hands are on deck on your Product Hunt launch day. 
Nothing else matters.
Except for your product launch. Capisce? 
Awesome.
Now that everyone's 100% focused on the launch, here are our best tips to help make sure it's a win:
Post your product on Product Hunt. The wee hours of 12am – 2am PST have proven to be the best times to get your product on the home page. Posting at that time guarantees that you'll make the first featured products for the day. 
Publish your intro comment. This should have been written and edited in the pre-launch phase. Start with what inspired you to build the product, then describe its core functionalities. Ask for feedback, and don't forget to give a shoutout to your Hunter. 
Update all your social profiles announcing that your product has just been featured on Product Hunt and add a 'Launched on Product Hunt' banner to your site to help drive traffic.
Share your message on the relevant Facebook and Slack communities. 
Product Hunt Launch Day: Resources and tools
Product Hunt Post-launch: Learn everything you can about your users
Whatever you do, don't take this phase for granted.
If you nail your launch day, the initial traction can be MASSIVE. The downside is, you need to be fully ready to capture user insights.
Keep in mind: Taking the right steps to set yourself up for success on Product Hunt is important, but it matters far less than the actions you take once the product insights start rolling in.
Here are some tips to help you nail the post-launch phase:
Be crystal clear about how your product works. One mistake we made was forgetting to mention which platforms Station supported. Make sure you spell it out for users so they're not caught off guard.
Monitor everything. Keep your eyes on your analytics dashboard, track all those who sign up, including any influencers or users who could be customers or potential collaborators.
Thank everyone who upvoted and commented. Make sure your thank you message is personal, it helps. 
Document and share your experience in a blog post like this. 😄

Product Hunt Post-launch: Resources and tools
Zapier: Use Zapier in combination with a Google Sheet and Twitter to automate your thank you messages and replies.
Product Hunt newsletter: Subscribe to share with your community once you get featured on the newsletter the next day!
Be ready to collect and apply user insights
This last point is everything.
It's important to remember that the main benefit of a successful Product Hunt launch isn't just new users: it's insights. 
Successful startups all have one thing in common. From day one, they are laser-focused on building a high-performance machine for driving product-market fit.
To get the best insights from your Product Hunt launch, make sure you've taken time to determine your high-expectation customer (HXC)—the person who will use your product to the greatest possible benefit. From there, it's all about using your new insights to make sure your product delivers as much value as possible for your HXCs.
(For more on how startups can build an engine to drive product-market fit, this article by Rahul Vohra, founder and CEO of Superhuman, is a must-read.)
Is Product Hunt worth it for tech startups?
The way we see it, launching on Product Hunt is a must for any new tech product.
Especially when you consider its budget–to–traction ratio. When done right, Product Hunt can be a great source of affordable passive traffic. 
In terms of costs, it depends on what tools you use.
The good news is, launching on Product Hunt is completely free. If you want additional support, you can opt to subscribe to Product Hunt's Pro Ship services which gives you customizable landing pages, email optin widgets, surveys and direct messaging capabilities for a cost of $59 per month for a yearly subscription, or $79 a month for a monthly subscription.
While there are tons of free tactics and platforms you can launch on, starting on Product Hunt guarantees you: 
Loads of comments, messages, feedback, and reviews from users and early adopters. 
Positive PR and free press coverage from authority sites such as LifeHacker.
High-quality leads and referrals.
The ability to field-test your product ideas and assumptions.
A mountain of new subscribers on your email list, and new followers on social media.
Real insights on product-market fit so that you can continue to attract the right kind of users long-term
These are all invaluable benefits for your new startup. But remember, it will require some work. 
Now it's your turn
You only get one shot at a stellar Product Hunt launch, so make it count. 
Focus on building the right community. Find a great Hunter. Leverage your Slack, Facebook, and Twitter communities. Do this, and you'll be on your way to hitting gold with your Product Hunt launch. 
Best of luck!
About us 🤗
Based in Paris, Station is run by an agile team of productivity geeks whose sole ambition is to make your workflows easier. Station is the Chrome extension designed to ease your workday and help you find what you need instantly. Give it a try! (It's free!)