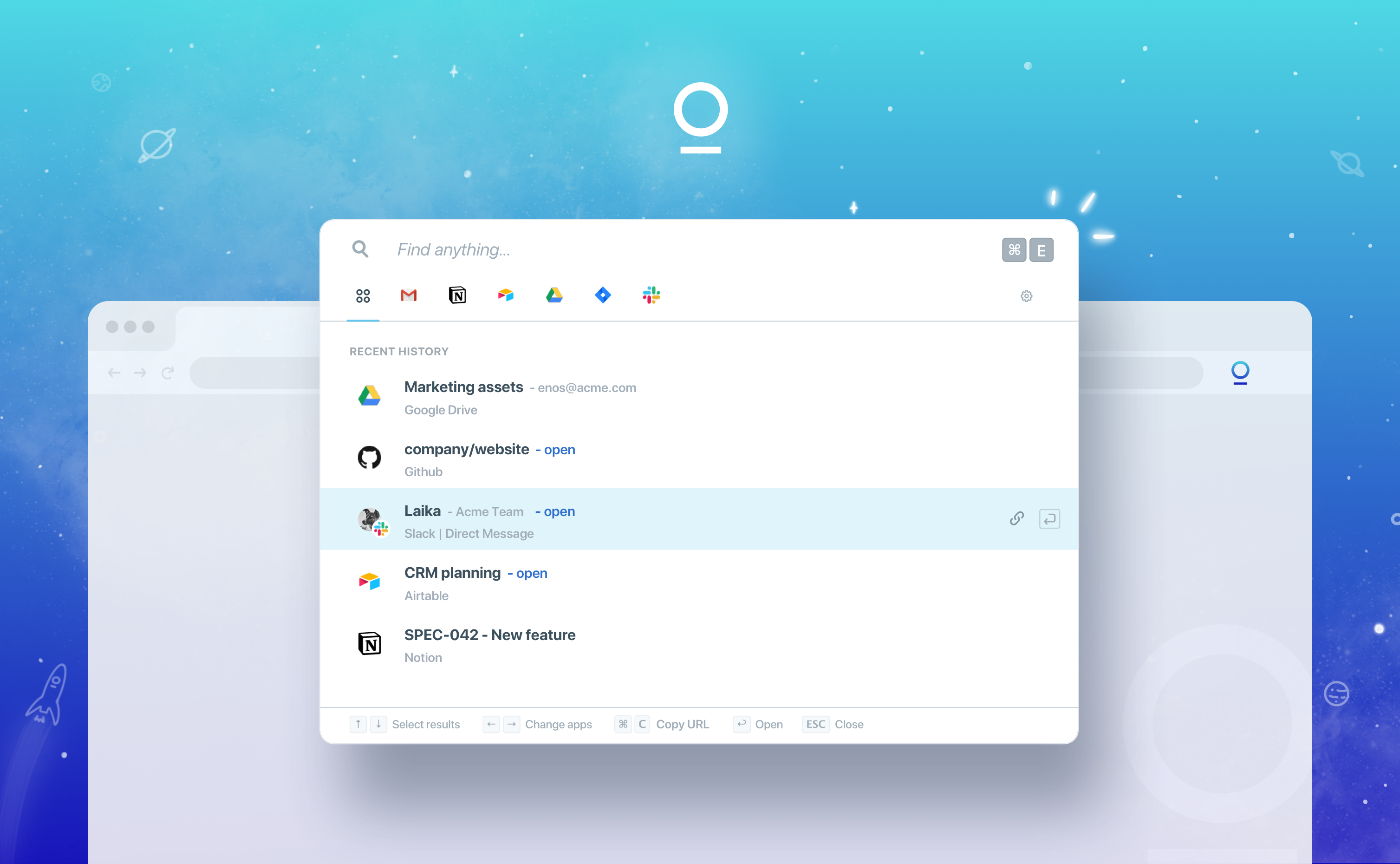 During these strange times of world pandemic and lockdown, our team has crafted a brand new Station. 💡 💫

The new Station is a browser extension offering you the fastest and most powerful search across all your work applications. We are bringing the unified search (one of our most powerful features yet) straight into your browser. As a result, we have decided to discontinue support for the current desktop application in order to focus entirely on this new product.
This might come as a surprise, so let me briefly answer 3 questions:

🤔 Why do this?
🌟 What is the new Station about?
💽 What will happen to the old Station?
🤔 Why do this?
There are 2 fundamental reasons for this move:
Technical limitations: building a browser from scratch proved very challenging leading to significant performance issues and piles of bugs affecting your workflow. We spent months trying to fix those issues but concluded that the technical stack on which Station was built (Electron) simply wasn't a sustainable way to build an alternative to a browser. The more we continued to build on it, the more performance issues and bugs you would experience.


Product purpose: most of you continued to use your browser side by side with Station, essentially splitting your workflow into two in the process. We tried to address many problems at the same time: organizing apps, search, notifications, tab management, multi-account, etc. and often felt short of delivering to you the best experience on all those different aspects. As we tried to do so many things all at once, it felt as if we mastered none.

Station grew fast in its early days but we hit a ceiling because we failed to deliver a fast enough product that could solve one single problem really well.

We were at a crossroad facing 3 main options:
Option A: continue building on our current technical stack and ultimately disappointing many of you with a low-quality product crippled with bugs and performance issues. Clearly, no one on our team wanted to go down that path.


Option B: change our technical stack (the good old "refactoring") in order to fix all our performance and bug issues. This would have taken more time than we had cash for and didn't solve the second part of the equation: what problem should we focus on?


Option C: learn from what we had built so far and focus on one single problem we deem to be worth solving. Then find the fastest and simplest way to solve that problem.


As you know, we chose the last option. It wasn't an easy decision for our team, simply because it meant throwing away pretty much 99% of the code we ever wrote in the last 3 years and we didn't want to disappoint you. But fear and past achievements should never hold you back from the truth.
We read through thousands of user interviews and survey answers from 300,000+ users who at some point in their life, just like you, tried out Station. Two things became clear:

Finding the information you need to get work done was the one most painful problem we could solve.

Rather than force you to adopt a new browser in all its intricacies, we should build right where you already get work done (aka your browser)

The new Station was born 💡

If you are interested in the long story around this pivot, I wrote another more detailed piece here.
If you are interested in the technical aspects, our engineer Hugo published a great article here.
🌟 What is the new Station about?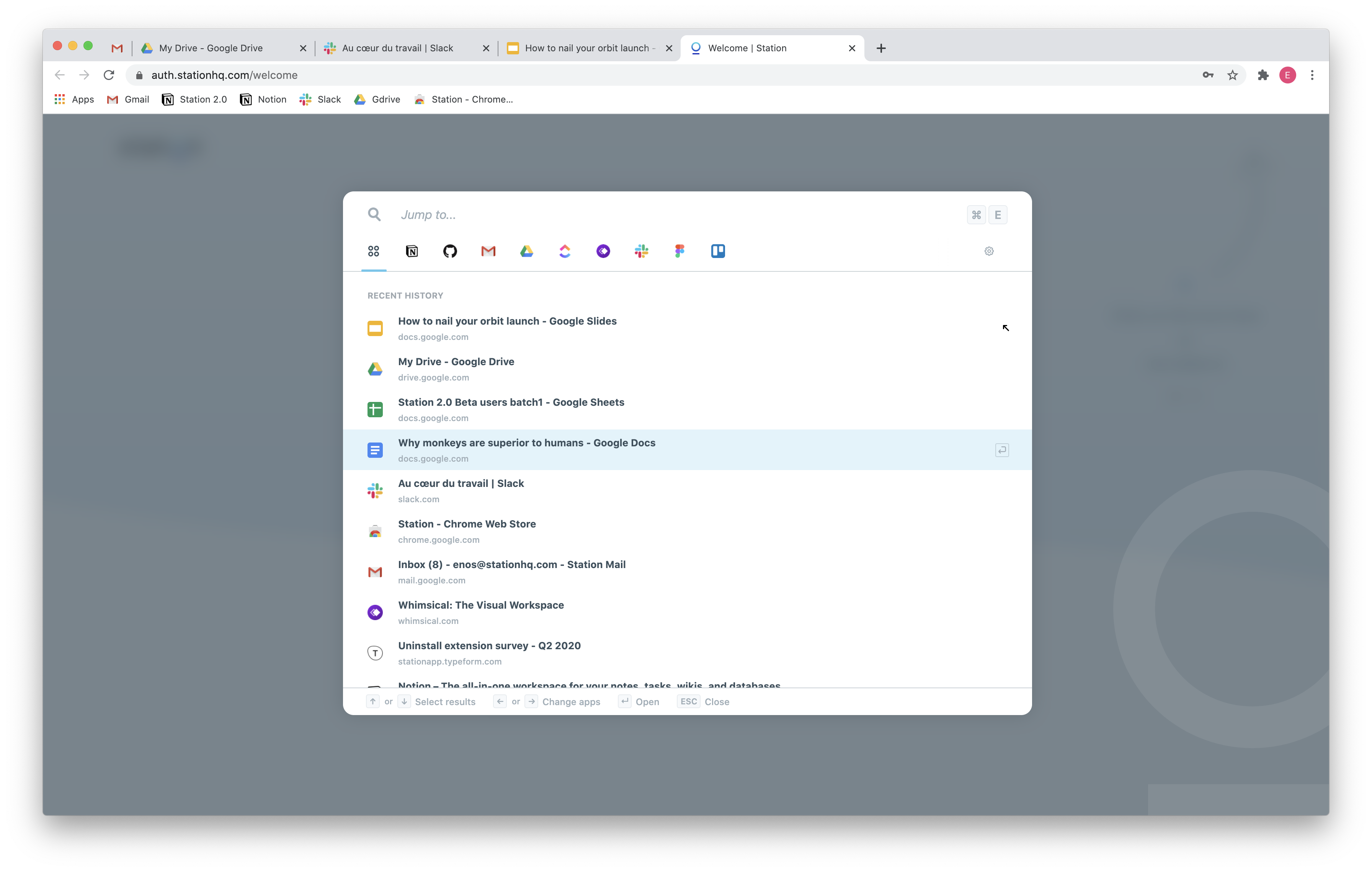 Our small team has only one mission: ease your workday. But there are many ways to achieve this. We are still building the one app to rule them all, but we are forging it one line of code at a time, at the heart of your existing workflow. Easing your workday starts with adapting to your workflow, not force you into a new one.

In short, the new Station will be different in two main ways:
it will help you find resources and switch across your apps faster right within your browser


it will be collaborative by nature, helping entire teams better find what matters and work together (more on that soon!)


We spend about 1/3 of our workdays looking for information (or bothering others about it). Meanwhile, we switch window on average 373 times a day, or once every 40 seconds. We basically spend most of our working hours switching from one thing to another across the many applications we use. We want to make those interactions faster and less painful so you can focus on working your magic rather than the path to get there.

Our vision hasn't changed since the early days: we are still building the operating system for work. But we are now laser-focused on the problem we want to fix. We are building the best search experience across all your apps (the Spotlight for work) and the single source of truth for all of your team's resources (the File System for SaaS). Whether it's a spreadsheet on Google Drive, a channel on Slack, a note on Notion, or a PR on Github, pretty much everything we now need to get work done hides behind a URL somewhere. We want to help you get to that information at the speed of light.

Ever since the first Mac OS came out in 1984, one of the key purposes of any operating system has been to help you switch to information fast (aka the search) and find any resource easily (aka the file system). Browsers have now essentially become our new operating system at work, that is the new reality. Yet finding information and switching across resources on a browser is really painful and it's made even more painful by the sheer amount of apps we now use to get work done. The browser was never designed with that new reality in mind. We are simply building the searchable file system your work deserves.

We are currently in private Beta and you can request early access right here. All current active users will be granted access. That's the least we can do. Station would never be what it is without you ❤️



💽 What will happen to the old Station?
Our team is now fully focused on building the new Station. What that means is:
starting tomorrow, you won't be able to download the app from our website.

you can still use the app of course but we won't provide support for it anymore

within the next 6 months, some applications will stop functioning properly, we prefer to be honest and upfront about it.

We completely understand that it may be frustrating for some of you who were content with the current app. I was myself confronted with the same situation a few months ago so I can help you think it through. You have 3 main options:

Switch to the new Station. You likely still use your browser to get work done. You may find it difficult to switch across all your applications or find what you need to get work done. Then you should give the new Station a try. It's a one-click install and takes less than 30 seconds to set up on your browser.


Switch to another alternative. I strongly recommend you avoid other apps built on what is called Electron, an open-source software framework used to build desktop applications. You will continuously face bugs and performance issues with competitors built on this platform. You can verify if the app you are considering is built using Electron by searching here or simply ask their support.


Continue using the old Station app as a vintage piece of software. Just be aware that you may face bugs and we won't be able to provide support for it. I don't recommend it.



I sincerely hope this advice proves useful to you!
Meanwhile, our team would love to hear from you 💌
You can ask for support on the new version in our Beta community here or email me directly at julien[at]stationhq.com.

Stay safe everyone.
With love,
The Station Team